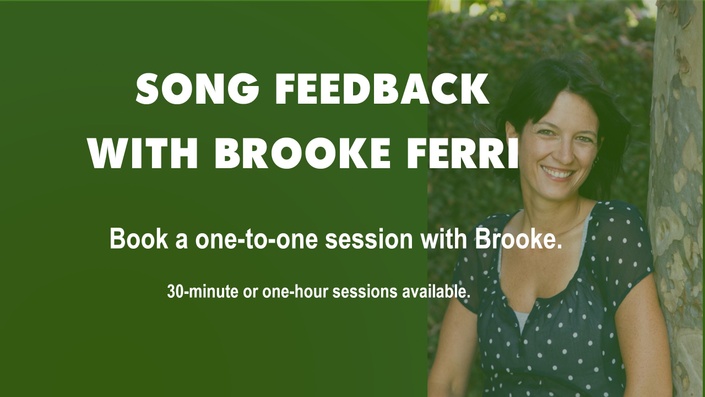 SONG FEEDBACK WITH BROOKE FERRI
Get valuable, real-world feedback for your songs! Book a one-to-one session with Brooke.
BROOKE IS CURRENTLY TAKING A BREAK. BUT SHE'LL BE BACK IN JANUARY, 2023.
Whether you want help with a specific lyric or song, or you're assessing the next step in your career, a session with Brooke Ferri will get you moving forward.
In a one-to-one feedback session, she can help you identify your strengths, find ways to enhance the impact of your song or lyric, and choose a genre or market to aim for.
"I really loved my session with Brooke! She breaks the songs down in a methodical way and gives great ideas and critiques. Plus she is helping me come up with reference artists for production purposes. I will definitely be working with her again and again."
~ Whitney Wright, songwriter
TO BOOK A SESSION...
The links will take you to Calendly.com, a website where you can choose a time and date to meet with Brooke. Pay for your session right on the website via Paypal. Afterwards, you'll receive a confirmation email with instructions for sending your lyrics and songs to Brooke.
LINK: BOOK A 30-MINUTE SONG CONSULTATION
On Zoom
In a 30-minute consultation, Brooke will give you in-depth feedback on one song or lyric and discuss your questions.
---
LINK: BOOK A ONE-HOUR SONG CONSULTATION
On Zoom.
In a 60-minute consultation, you can get in-depth feedback on two songs or an overall (light) assessment of four songs for genre, career focus, and current marketability.
BROOKE FERRI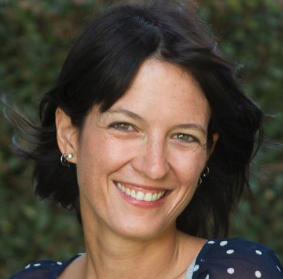 BIO
Brooke has worked in the Music Department of Sony Pictures Entertainment, at Lionsgate Music, and as Creative Manager at Black Toast Music. She honed her critiquing skills as a member of the A&R team and Director of Artist Relations at TAXI Music.
With a BFA from NYU's Tisch School of the Arts and a law degree from Southwestern Law School, Brooke has a deep knowledge of both the business and creative sides of songwriting, composing, and pitching your music. Bring your music and questions to her for the answers you need.
"I had my first hour session today. Lots of great advice and insight into my songs. Can't wait to schedule another session :)"
– Natalie Serra, songwriter
Frequently Asked Questions
What is the Calendly website?
Calendly is a website for booking consultations and appointments. When you book your session on Calendly, you'll be prompted to pay via Paypal. After you pay, your email receipt will be sent to you from
[email protected]
This is the Paypal account associated with the My Song Coach online courses. Calendly is not involved in the payment process.
How will I know when Brooke is available?
On the Calendly website, you'll see a calendar with dates in blue. Those are the days when Brooke has available sessions. Click on the date to see the hours that are available. Choose a time and then follow the instructions.
What if I need to cancel a session?
If you need to cancel, let us know at least 24 hours prior to your session start time. We'll refund your money less any Paypal fees.
What if I am not happy with my feedback?
Please let Brooke know during your session about any concerns you have so she can address them. If you're still dissatisfied, please contact me, Robin Frederick, at
[email protected]
and let me know what I can do to help.
Do I have to register or log in to the Calendly website?
No, you don't have to log in or register at Calendly.com. Just click on the link for the session you're interested in. It will take you directly to Brooke's calendar. Once you choose a date and time, you'll be asked for your name and the email address where the confirmation email and reminders will be sent. It is not a registration for Calendly.